Announcement
Prepayment of distribution fees
(overseas organizations only)
The RIKEN BioResource Center (BRC) is a non-profit institution funded by the Japanese Government. We have been engaging in collection, preservation and distribution of bioresources, with the aim to support research and development in the field of life sciences. We provide bioresources to scientists not only in Japan but also throughout the world with minimum fees that is solely reimburse for preparation and handling costs of the requested bioresources. To continue the smooth distribution of bioresources for overseas organizations, it has become necessary to send bioresources prepaid.
We sincerely hope that this change will not cause any inconvenience to our users. We very much appreciate your understanding and cooperation, and are looking forward to receiving your requests for our bioresources.
The prepayment of distribution fees for overseas organizations will apply to all orders for bioresources from Monday December 14, 2015 (Japan standard time).
* Step 1:
Search the JCM online catalogue of strains <http://jcm.brc.riken.jp/en/catalogue_e> for a microorganism(s) that you wish to purchase.
* Step 2:
Go to <http://jcm.brc.riken.jp/en/ordering_e#documents> and click "Order Forms". Choose an order form, credit card payment or bank transfer/check payment. If you choose "Order Form (Bank Transfer or Check Payment)", go to Step 5.
* Step 3:
Please enter your registered e-mail address and password and click the button "Order Form (Credit Card Payment). Then, the order form for credit card payment will be displayed. Go to Step 5.
If you are a first time user, go to Step 4.
Note:
(a) If you have forgotten your password or want to change your registration, you must change the data before step forward.
(b) If you enter incorrect e-mail address or password, the "Order Form (Bank Transfer or Check Payment)" will be displayed.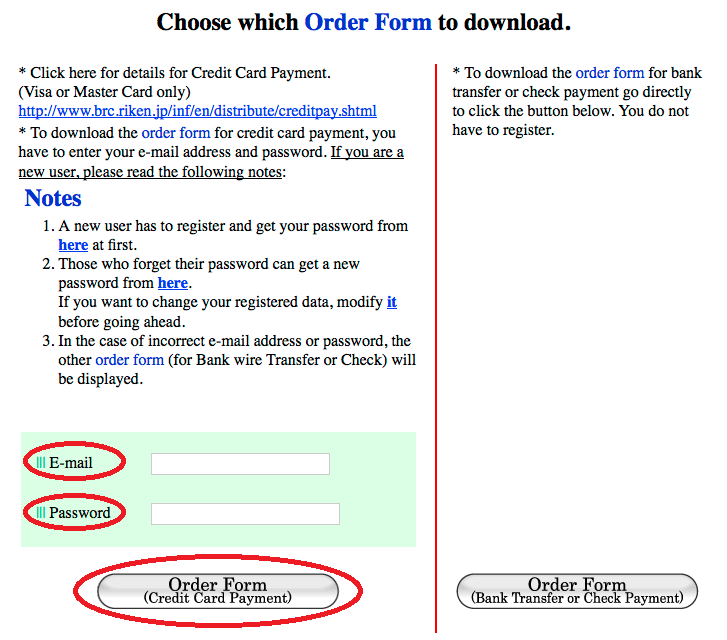 * Step 4:
Go to user registration. Click "here" marked red circle.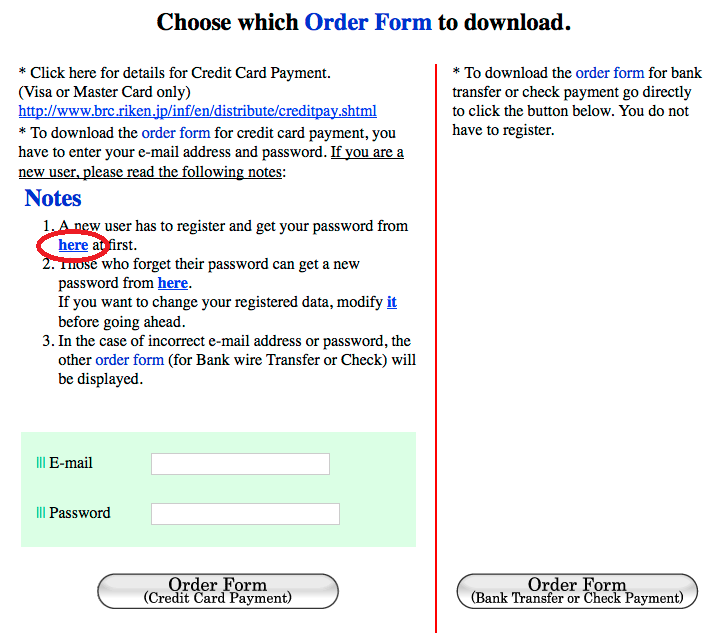 * Step 4(a):
Enter your e-mail address and get a password. A password for user registration will be sent to your mail address.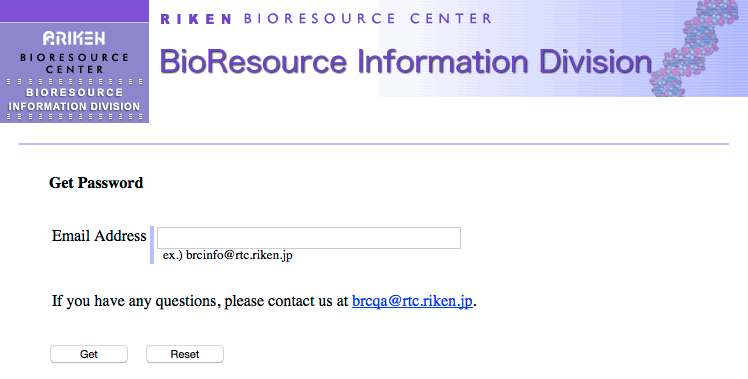 * Step 4(b):
Enter your e-mail address and the password provided.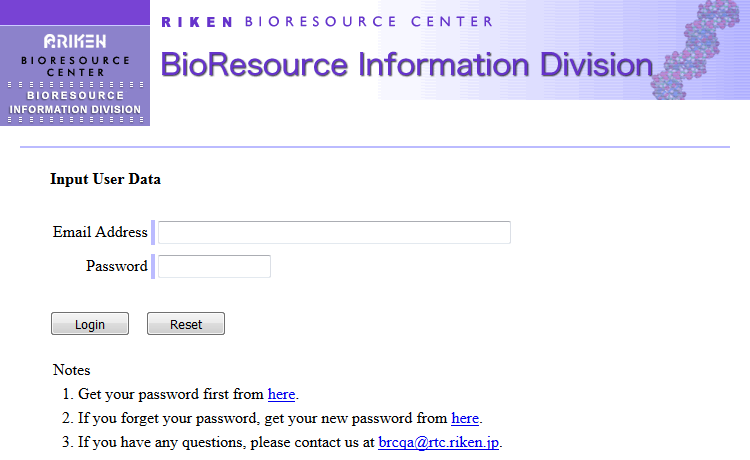 * Step 4(c):
Enter all the information required in the screen and click on the "Confirm" and then "Submit" button. Then go back to Step 3.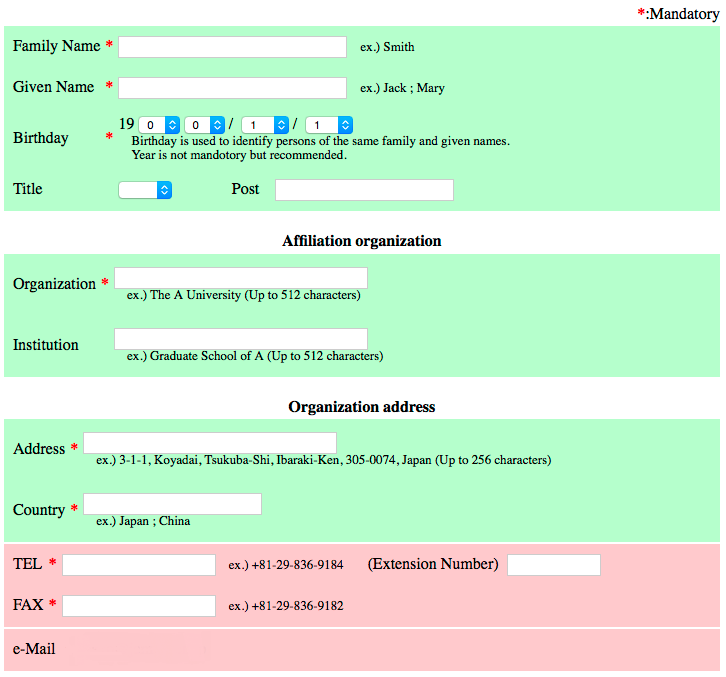 * Step 5:
Print out the downloaded Order Form and fill out the resource number, quantity and other information on the order form, and then send it with 2 sets of Material Transfer Agreement and 1set of Approval Form (when required) by e-mail, post or fax.
Address
BioResource Center Planning Office
RIKEN
3-1-1 Koyadai, Tsukuba, Ibaraki 305-0074, Japan
Fax: +81 29 836 9182
E-mail: brc-front

brc.riken.jp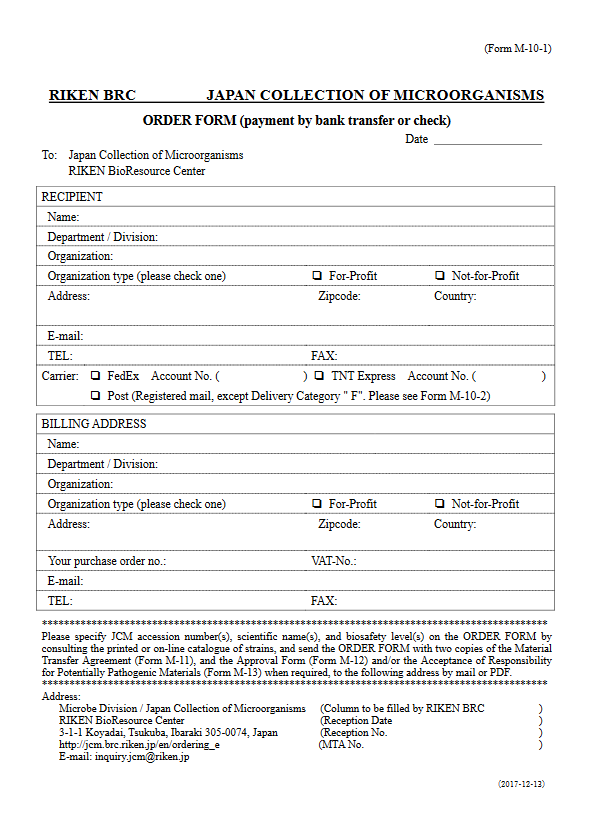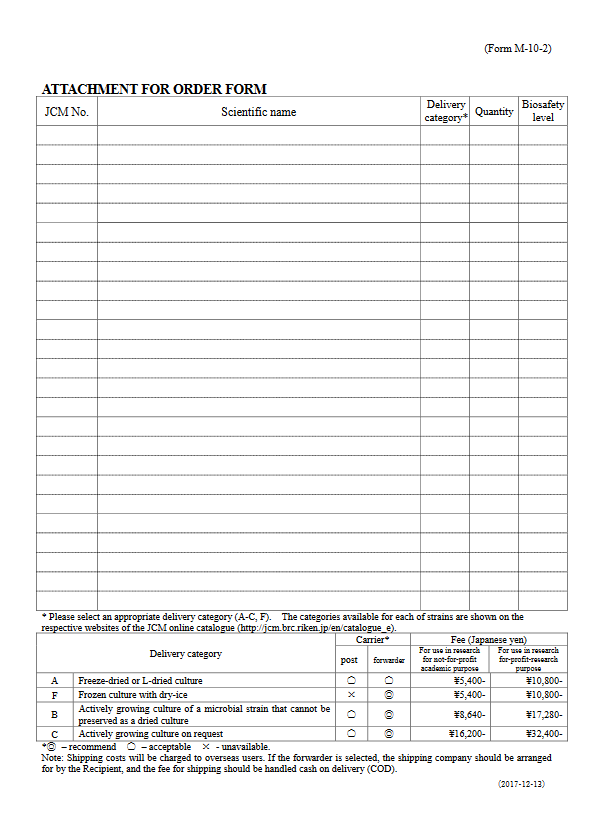 * Step 6:
We will review your order and send you an invoice and the payment instruction by e-mail as a PDF attachment. The RECIPIENT should prepay the distribution fees before bioresources to be shipped are prepared.
If you choose the payment by credit card, we will send an e-mail with the subject, "Online payment from RIKEN BioResource Center" to your registered e-mail address.
* Step 7:
Please open the attached URL, check the details and input your credit card information after you receive the invoice.
If you choose the payment by Bank transfer/check, please follow the payment instruction carefully and send us an e-mail to notify your completion of the payment.
* Step 8:
When your payment is confirmed by our office, you will receive a confirmation e-mail.
* Step 9:
Then we will start processing your order.
Please obtain an import permit/license prior to shipping, if required.
* Step 10:
We will dispatch the culture(s) when the MTA (for distribution) is concluded. An automated message will be sent to you when the culture(s) is sent out.
If you have any questions, please contact us at inquiry

jcm.riken.jp
.